Poetic minimalism
Sarah Jenkins wins Bruckner Foundation prize at Carouge biennial ceramics competition, Geneva, Switzerland
19 September 2015
The prestigious Bruckner Foundation Prize for the Promotion of ceramics was awarded to Sarah Jenkins for her "Furrowed Dome" lamp. The jury commented on the harmony and delicacy of the proportions and described the entry as a "poetic demonstration of minimalism."Sarah Jenkins artist said: "I am over the moon about winning this prize. It is fantastic to be recognised in an international competition."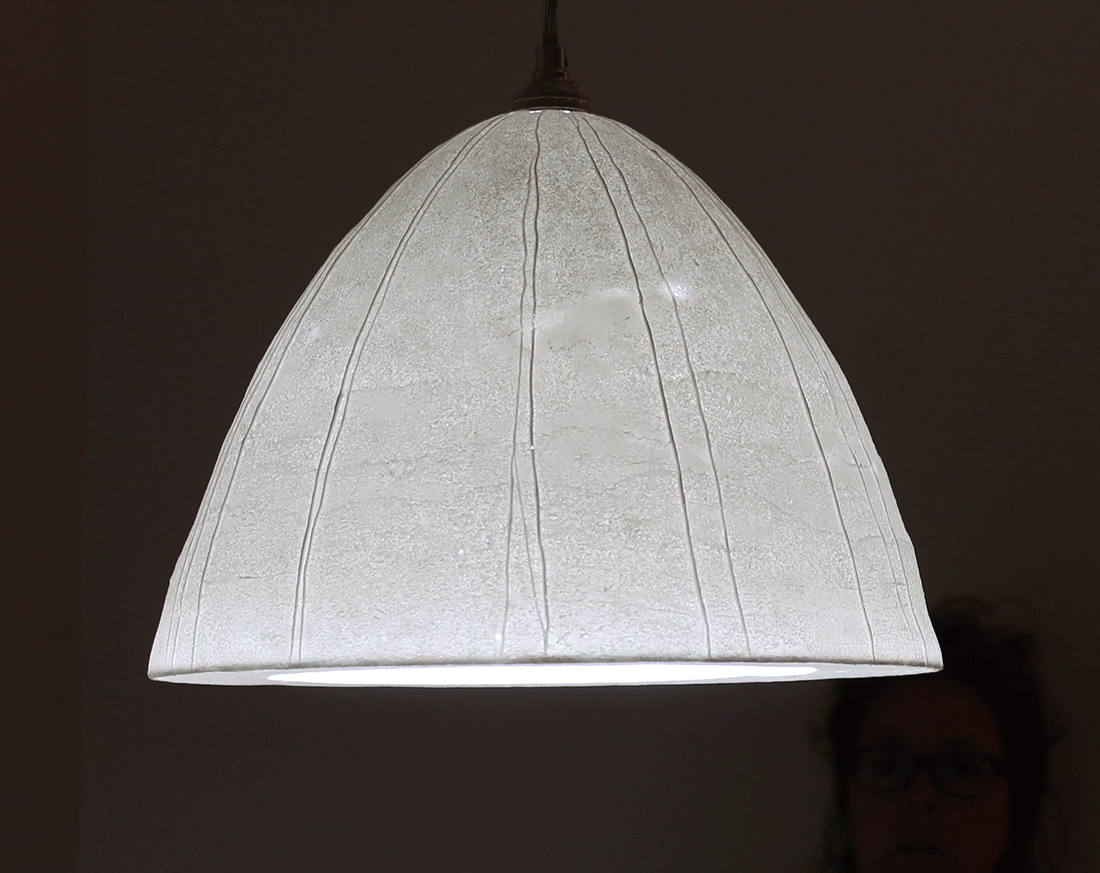 ---
For the 15th International biennial Ceramic competition at Carouge, Geneva, there were around 500 entrants taking up the theme of 'Ceramic lamp'. An international jury selected 58 objects from 22 countries to make up the exhibition La Lampe Ceramique at the Musee de Carouge.
The jury assessed the entries anonymously, using creativity, innovation, expression, humour and technical ability as judging criteria.
About the light-pieces
I create light-pieces - lampshades - by slip casting bone china. The hand-casting process creates organic irregularities, making each one unique, looking as if it has grown, rather than been made. Although light, they are surprisingly strong, with a gentle translucency that provides a warm soft glow of illumination through the shade. When the lamp is off they have a beautiful matt white textured surface, like a shell. The addition of paper pulp to the slip means that it is possible to produce exceptionally thin and translucent shades. Even the large pieces weigh only around one kilogram. I am experimenting with new shapes. I take commissions and have had positive feedback. Get in touch if you are interested in commissioning one of my pieces.
Furrowed dome pendant lampshade
The lampshade submitted for the competition was a freshly created ceiling light/pendant lamp, on a larger scale than the pieces I made previously.
Translucent Bone China Lampshade. Weight 1.1Kg. Height 230mm x Diameter 335mm.